Many cat owners are looking for easy cat food recipes for different reasons in their life. But remember nothing makes your cat love you more than providing it with homemade food. The cool part about this is that you don't have to be a top chef to prepare some special entrees, and you don't need a lot of time too.
The internet is indeed full of easy cat food recipes, and it is frustrating to find the perfect one for your kitty. However, before you consider cooking for your cat, you need to know if it has any kind of allergies toward food. Also, you should keep in mind that these are treats and not a replacement for your cat long term diet.
Fresh homemade food is arguably better than dry food for your pet. When you are cooking for your kitty, you will know precisely what your pet is having, and especially what it is not having.
After all, dry food is not as healthy and varied in ingredients as the one we make at home. Besides, dry food is quite expensive, so if you consider switching to homemade food, you will be saving some cash as well.
In this article, we will provide you with 12 different easy cat food recipes that you can make at home to make your fluffy friend happy.
Are These Easy Cat Food Recipes Good For My Cat?
As a cat owner, you always want to make sure your cat is healthy and happy. Improving your communication with your cat to understand its needs is impressive to reduce the stress and keep your cat away from being anxious. Also, playing with your cat is essential to keep it happy and improve the relationship between both of you.
Another fantastic way to make sure your cat is living a healthy life and loving you more is to cook for its fresh homemade food, by adding fresh and healthy ingredients to your cat's diet. Therefore, you will find in this article some amazing easy cat food recipes that you can cook today and impress your fluffy emperor.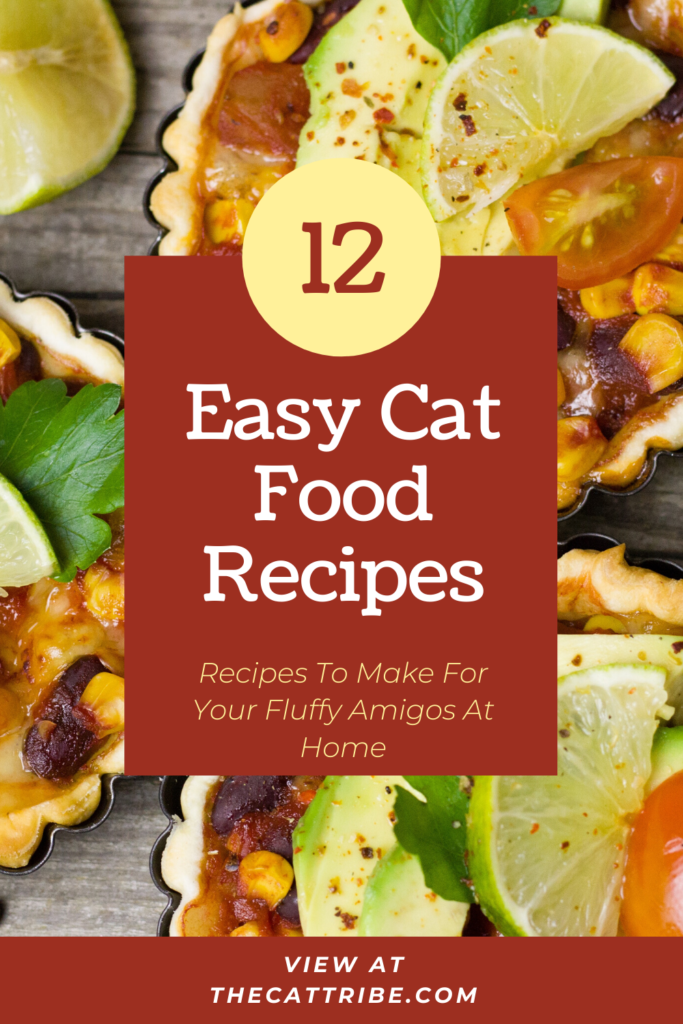 #1 Sardine With Carrot & Oatmeal Cat Food Recipe 
We both know how much our fluffy friends love the smell of sardines, and they love the flavor even more. This is one of the easy cat food recipes, and it is super easy and nutritious for your pet.
Ingredients
1 can of sardines
2 tablespoons of cooked carrot
3 tablespoons of cooked oatmeal
Preparation
Mash the carrots in a bowl and add the oatmeal then the sardines. Mix together and then serve to your cat. You can store the rest in the fridge for three days maximum.
#2 The Yummy Trout Dinner 
Trout may seem a weird choice as a treat for your cat, but this recipe is a tasty treat for your cat out of our list of easy cat food recipes. The recipe is full of protein and vitamins, which makes it super nourishing.
Ingredients
1 cup of cooked trout
1 egg yolk
2 tablespoon of broccoli
2 tablespoon of sunflower oil
Preparation
Take the broccoli and steam it till cooked, and then chop it to small pieces. In a pan, take one tablespoon of sunflower and cook the egg yolk.
Take your food processor and put the cooked trout, the egg yolk, the broccoli, and one tablespoon of sunflower oil. Mix all the ingredients until blended, and it is ready to serve.
#3 The Delicious Salmon Dinner For Your Cat
This recipe is a combination of healthy and tasty. If you cooked this for your kitty, it would appreciate you so much.
Ingredients
1 can of salmon
2 tablespoons of Broccoli
2 tablespoons of whole wheat bread crumbs
1 tablespoon of brewer's yeast
Preparation
Cook the broccoli (preferably steamed) and then mash it or chop it into tiny pieces. Put the salmon, the mashed broccoli, the bread crumbs, and the brewer's yeast in a bowl and mix them all together.
Serve this delicious dish to your pet, and you can keep the leftovers refrigerated up to three days.
#4 Chicken Dinner
Chicken is preferable by cats, and it contains a lot of the vitamins and the proteins that your pet needs. This recipe is easy, and it takes no time to prepare. You can actually cook it in parallel with making your dinner if it contains the following ingredients.
Ingredients
1 cup of chicken
3 tablespoons of carrots
Chicken broth
Preparation
Steam the carrots and mash it well. Take the chicken and cook it whatever way you like (boiling, baking, steaming…etc.).
Just make sure it is cooked. Place the chicken and the carrots in a food processor and add some spoonful chicken broth (until the mixture is smooth, but not too soupy). Your cat will thank you for this tasty meal.
#5 Beef Dinner
Cats need protein and fat in their diet to survive, and this recipe is a perfect choice for your kitty.
Ingredients
1 cup of ground beef
½ cup of brown rice
¾ cup of small curd cottage cheese
Preparation
Cook the ground beef in a frying pan until brown and let it cool. Meanwhile, cook the brown rice (you can steam it or boil it).
After that, mix the cooked beef, the cooked rice, and the curd cottage cheese, and they are ready to serve. You can refrigerator the leftovers for up to three days.
#6 Cat Salad
This is one of the easy cat food recipes that are mostly green based. Cats indeed like greens. However, with your cat being home all day, it won't have access to the green it craves. This recipe will satisfy your cat's craving.
Ingredients
¼ cup of grated zucchini
½ of chopped alfalfa sprouts
1/8 cup of chicken stock 
A pinch of minced catnip
Preparation
Mix the grated zucchini, the chopped alfalfa, and the chicken in a bowl and toss them. When serving this meal, sprinkle a pinch of minced catnip on top.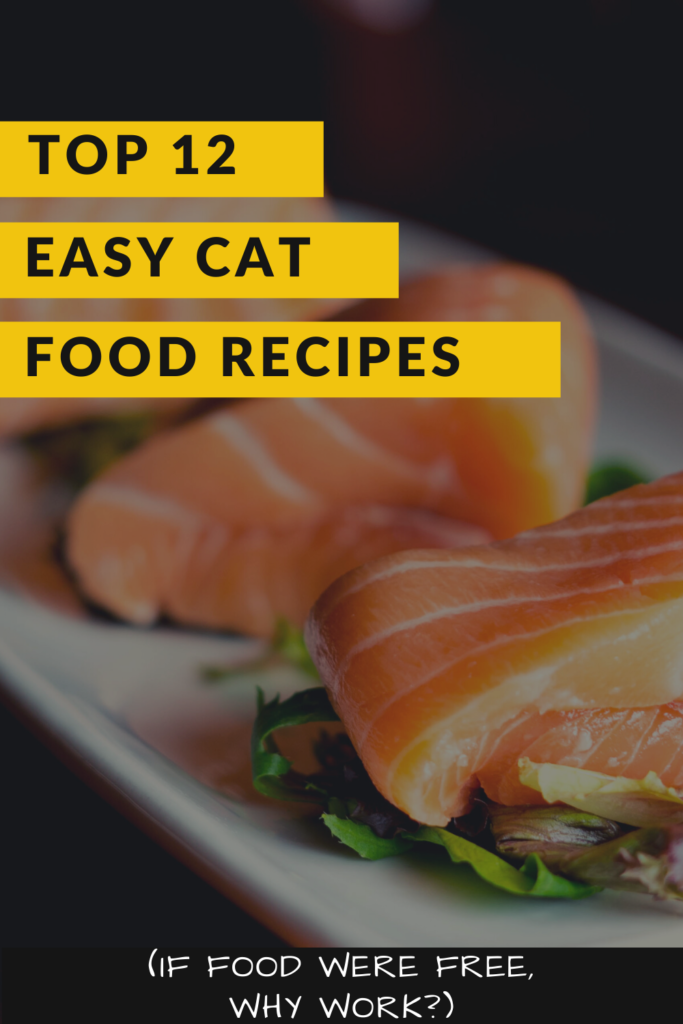 #7 Turkey Balls
Protein sources must be varied in your cat's diet. Although the cats love fish, you can't be feeding it to your cat all the time. Thus this recipe is an excellent replacement for the traditional meatballs, and it is super tasty as well.
Ingredients
½ pound of ground turkey 
½ cup of grated carrots 
¼ cup of powdered milk
1 egg 
Preparation
Mix the ground turkey, the carrots, the milk and the egg in a bowl. Shape the mix into individual small-sized nuggets and arrange them in a nonstick baking pan.
Put the nuggets in a pre-heated oven and leave them for about 45 minutes. You can freeze this meal and reheat them in the microwave as needed.
#8 Kitty Bruschetta
This easy treat is delicious, nutritious, and your cat will love you for making it. Kitty bruschetta can be done in a few minutes so you can make it fresh anytime you like.
Ingredients
1 slice of bread
Fish oil
Dried fish flakes
Preparation
Toast the slice of the bread in the toaster, and then cut it into small cubes (make sure you don't over toast the bread).
Put the cubes in a nonstick pan and brush them with fish oil and sprinkle some dried fish flakes. Please put them in the preheated oven until the cubes are golden brown. This is going to be your kitty's favorite meal.
#9 Chicken And Greens
This recipe is high in protein and vitamins that your kitty needs to be healthy. Sure, this recipe takes a little bit of time, but isn't it worth it to see your kitty happy?
Ingredients
1 cup of chicken
2 cups of water
½ cup of chopped carrots
½ cup of fresh beans chopped
1/ 2 cup of chopped frozen spinach 
2 tablespoons of parsley flakes
1 tablespoon of brewer's yeast
Preparation
Put the chicken and the water in a slow cooker on medium heat until the chicken is tender. When the chicken is cooked, please remove it from the broth. Put the broth in the refrigerator until the top is covered in fat and remove it.
After that, remove the fat and the bones from the chicken and cut it into small pieces. Return the broth to the pot; add the carrots, the spinach, the beans, the parsley flakes, and brewer's yeast and cook them on medium heat for about twenty minutes.
Add the chicken and cook once more for about five minutes. Cool and serve. You can keep this meal in the fridge for about a week and in the freezer for about a month.
#10 Mackerel Recipe
This recipe is easy to make, and full of nutritious ingredients that are so useful for your kitty.
Ingredients
1 cup of canned mackerel
1 tablespoon of sunflower seed oil
1 tablespoon of organic cooked brown rice
1-2 tablespoon of chicken broth
Preparation
Put canned mackerel, sunflower seed oil, brown rice, and the chicken broth in the food processor. Puree until blended. And your meal is ready.
It is better if you serve this meal fresh, but you sore it in the fridge for three days maximum.
#11 A Nutritious Breakfast
This recipe is one of the best easy cat food recipes. It is full of vitamins and minerals. Also, this meal helps you provide a diet rich in vegetables and protein for your pet.
Ingredients
1 tablespoon of dry milk
3 medium-sized eggs
3 tablespoons of cottage cheese
2 tablespoons of grated cooked vegetables
Water
Preparation
Mix milk powder and a small amount of water together, add eggs, and beat until blended. Pour the mixture into a pan and cook it over medium-low heat until done.
Flip it and spread cottage cheese and vegetables over half of the cooking surface. Fold it. Cool and cut into bite-sized pieces before serving.
#12 Cheese Ball Treats
This is one of the easy cat food recipes. This recipe can be served as a side meal. It is easy to make, and all of its ingredients are available in every house. Cheese Ball Treats are delicious and healthy as well.
Ingredients
2 tablespoons of margarine
1/2 cup of grated cheddar
1 egg white 
1/2 cup of flour or rice flour
1 teaspoon of fresh chopped catnip
Preparation
Mix the margarine, the cheddar, and the egg white until well blended. In a separate bowl, combine flour and catnip.
Add the dry mixture slowly to the first mix. Form small sized balls and place them in a cookie sheet—Bake at 300 degrees F for about 30 minutes.
Do You Love These Easy Cat Food Recipes?
Now, after going through these amazing and easy cat food recipes, your cat will be waiting for you to cook these dishes every day. Don't forget to eat with your cat and give it a good company! After all, your cat is your leader, and you must submit to its needs.
Also, make sure to consult your veterinarian about these recipes if your cat has a specific allergy to certain ingredients or some different diseases that may prevent them from eating a particular food.
Finally, I hope you found the best recipe for your fluffy friend. Also, put in your mind your cat will love you even more with these easy cat food recipes.
Let me know your answer down below. What do you think about these easy cat food recipes? Do you have more easy recipes for cats?
If you have any other questions or different recipes for cats, leave a comment below.
Don't Forget To Follow Us On Our Social Channels. View Here