Finding the best cat condos for large cats might be a hard, time-consuming task, which will most of the time lead to disappointing results. Although their presence among our bedrooms nowadays is often more than ours, cats usually experience a hard time letting go of their old jungle days habits.
Climbing, scratching, and sleeping on high roofs are things that come naturally attached to their DNA, and there is no amount of city lifestyle that could let such habits vanish away.
While large cats provide a great playing companion, they make the task of finding a suitable cat tree a lot harder, although there aren't many best cat condos for large cats on the market, we did our extensive research to find out your next suitable cat tree.
"Women and cats will do as they please, and men and dogs should relax and get used to the idea."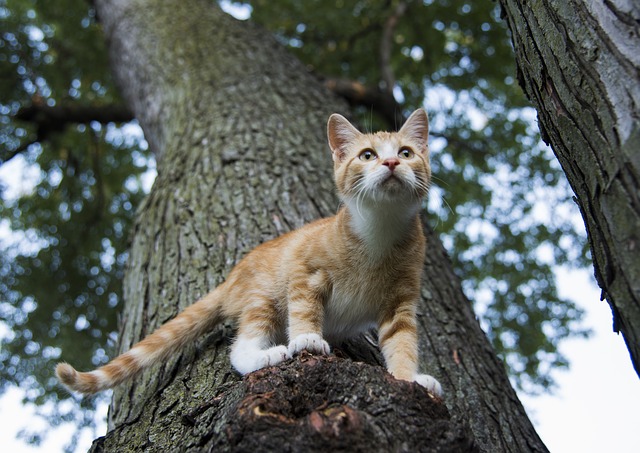 Before We Begin Here Are Few Things To Know About The Cat Tree Or (Cat Condo)
Their curiosity, high energy, and playfulness encourage people to find a suitable home that allows them to do all the desired activities they used to do on the typical jungle trees in the comfort of the inside. Thus the artificial structure called cat tree was created.
Cat trees (also called cat condos or cat stands) come in very different shapes and forms, they also vary in their complexity and high, but they all try to offer a suitable way for cats to play, sleep and scratch their furry body.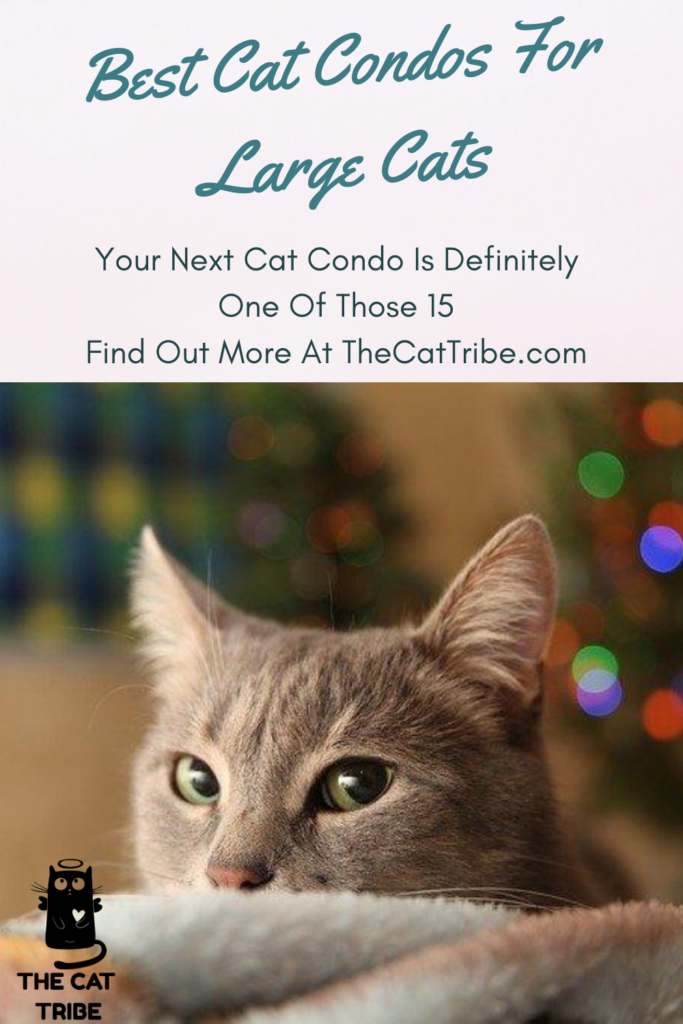 How To Choose Your Next Cat Tree
We did a lot of digging on the internet to try to come up with the optimal home for your cat, in doing so we had a lot of categories to consider, here is a list of our most concerns when we try to put together the best cat condos for large cats in one place.
Since our list is for large cats, size is our number one priority today. During the selection process, we made sure to include only the cat trees that could fit your cat's size, no matter how large.
The type of wood used to build the cat tree is crucial when choosing the perfect cat tree; that's why we give you the best material on the market.
The perfect home must be a safe one; that's why we ensured every cat tree on the list would allow your cat to have a deep sleep at night.
The look is often forgotten by most people when it comes to where their cats will live, but we think cats take appearance seriously, so we've picked types they will definitely like.
Our recommendations might not be the right choice for everyone. If you are facing a struggle regarding what to choose, these few questions will help you pick your next cat tree!
Grab Your Gift From Our Freebies Page! Click Here
How many cats do you own?
How large is your cat?
What is your budget?
Are you looking for a permanent home or a place to play?
What color does your cat prefer?
How good is your cat climbing?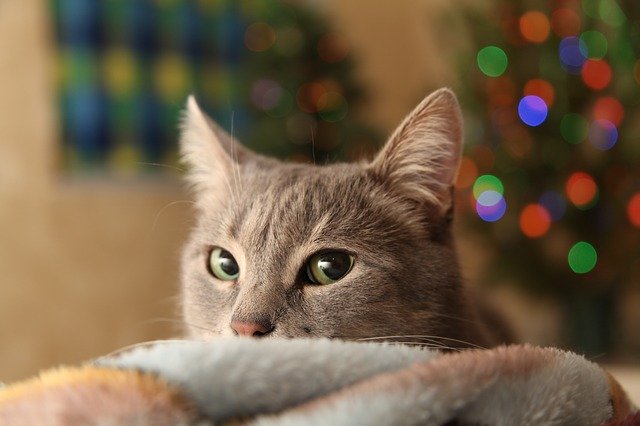 15 Of The Best Cat Condos For Large Cats
Finding the best cat tree can be challenging. However, the following are a list of the best cat condos for large cats that will make it easier for you to pick one.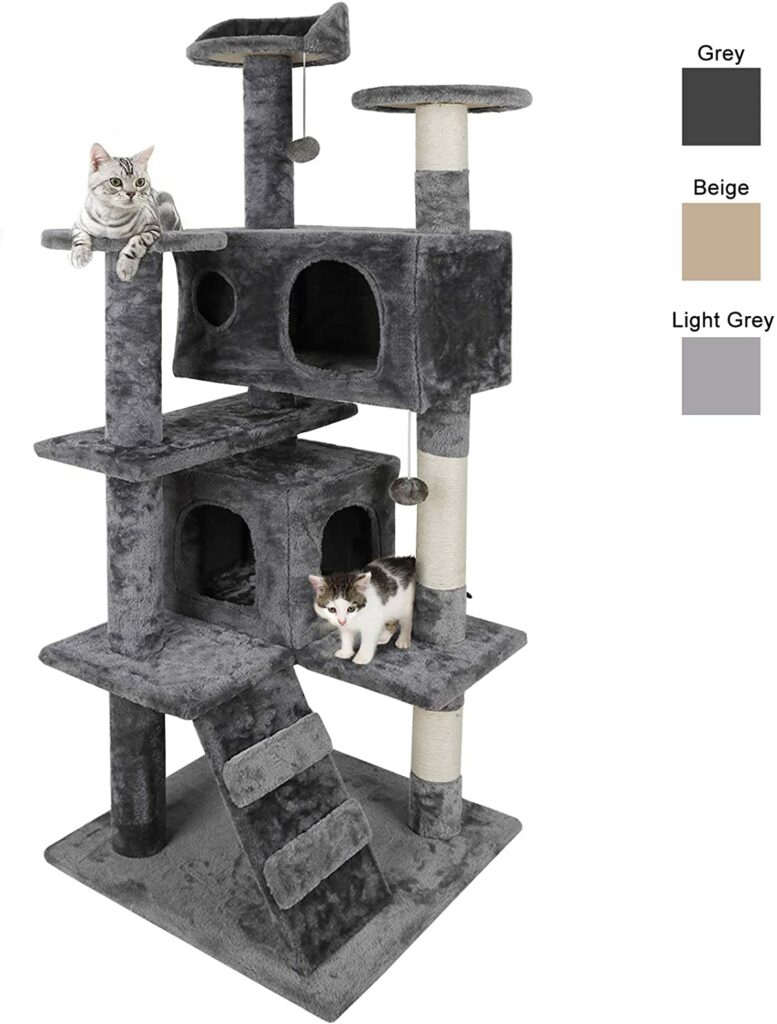 If you are searching for a cozy cat tree for your cats (home of their own) to rest, play around and just be energetic as they want, this nova cat tree is considered one of the best to be their dream-come-true! This is our #1 choice as it is one of the best cat condos for large cats or multiple cats.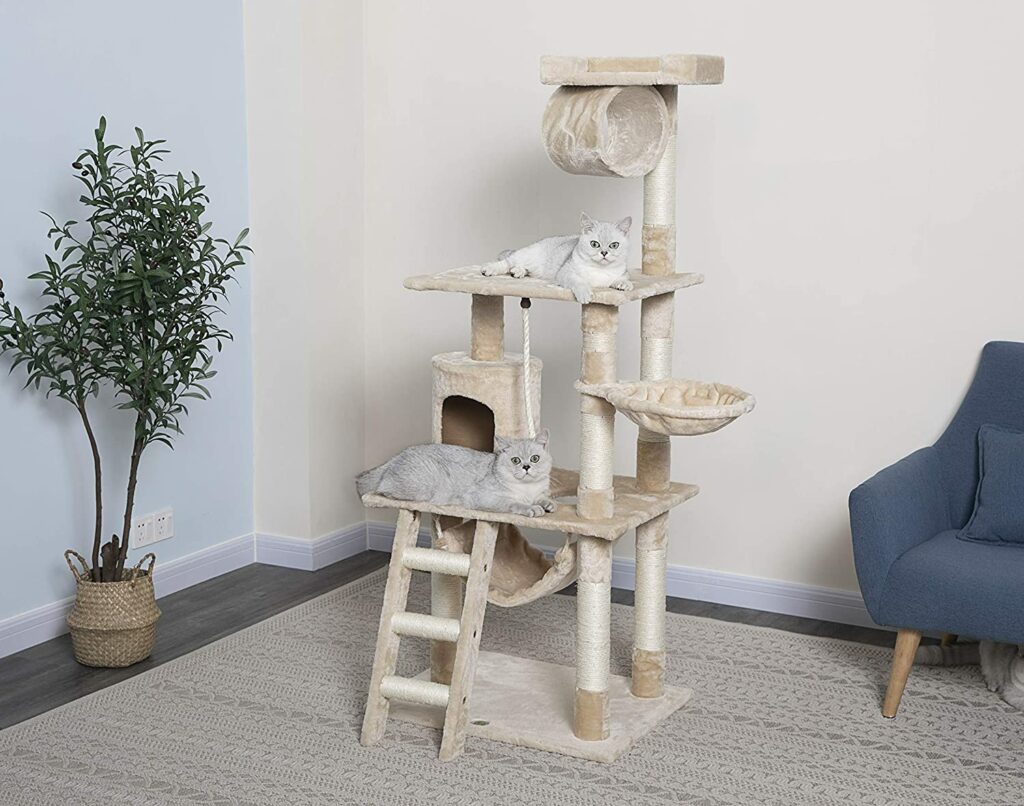 This beautiful and durable cat tree is made from a highly durable compressed wood, wrapped with high-quality Faux Fur finish to keep your cats warm and cozy. The modern look for this cat tree makes a great addition to your house.
#3 AmazonBasics X-Larg Cat Tree With Platform
What I love most about this cat tree is that it is a simple yet practical one. It has a natural jute fiber scratching posts which help keep your cat's nails healthy.
#4 AmazonBasics Multi-Level Cat Tree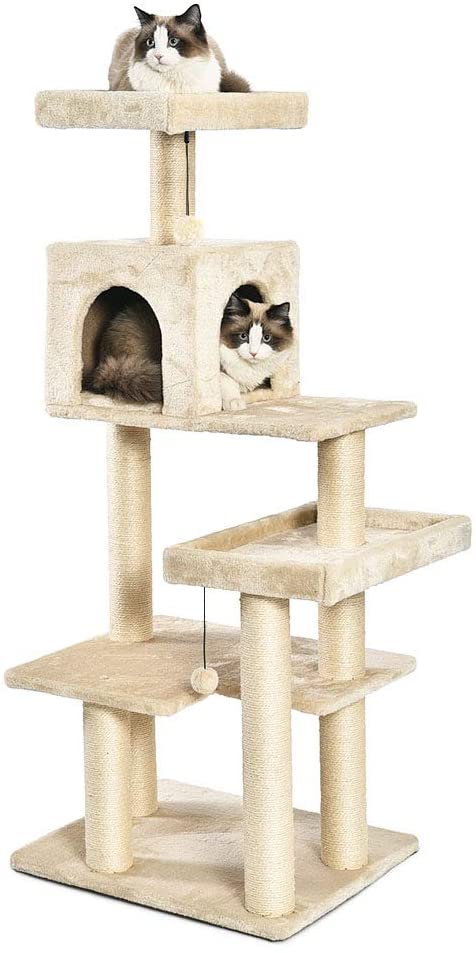 Another product from AmazonBasics which has a multi-level of platforms to make your cat even happier. They made sure to include a natural jute fiber scratching posts the same as before to keep your cat's nails healthy.
#5 Topeakmart 54.5 inches Multi-Level Cat Tree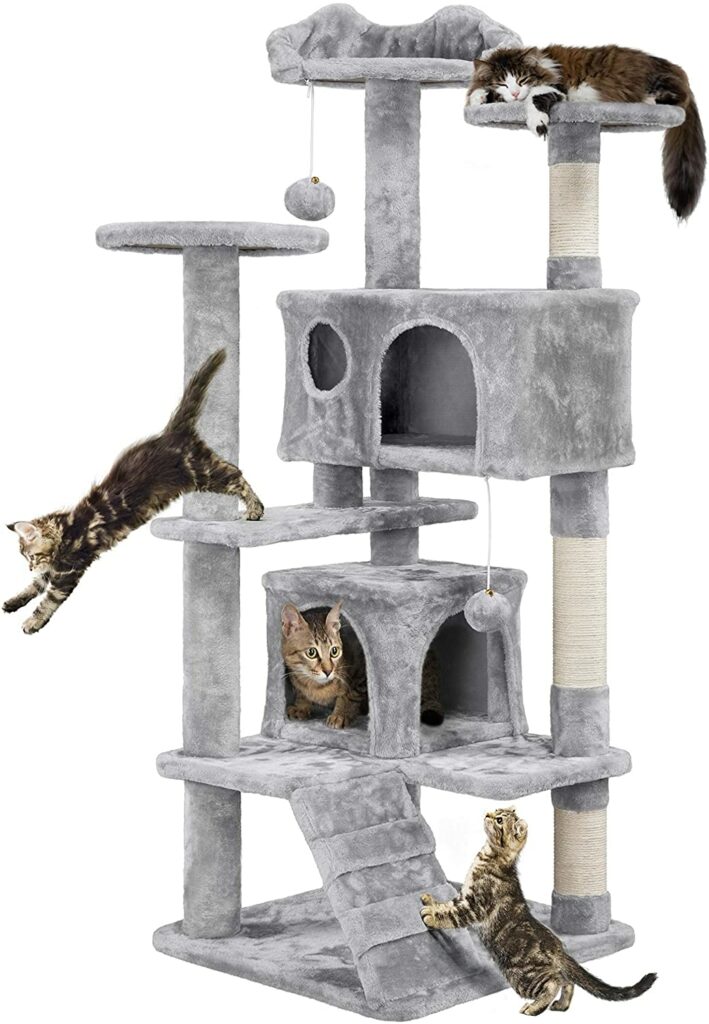 As a multiple cat owner, you must be looking for a large cat tree. Our #5 cat tree is one of the best choices from our best cat condos for large cats or multiple cats list! The appearance is modern comes with four colors (Beige, Light Grey, Dark Grey, And Brown), which makes it a good choice for your house. Also, the price of this cat tree is just outstanding for what they offer.
If appearance is what you are looking for when choosing your next cat condo, Vesper Cat V-High Base Furniture provides the best modern design on the market today.
The combination of a stylish beige color with a centered cabin on top makes the design impeccable. However, a good look isn't the only use for that cabin, and it also serves as a safe zone for your cat to take a nap in.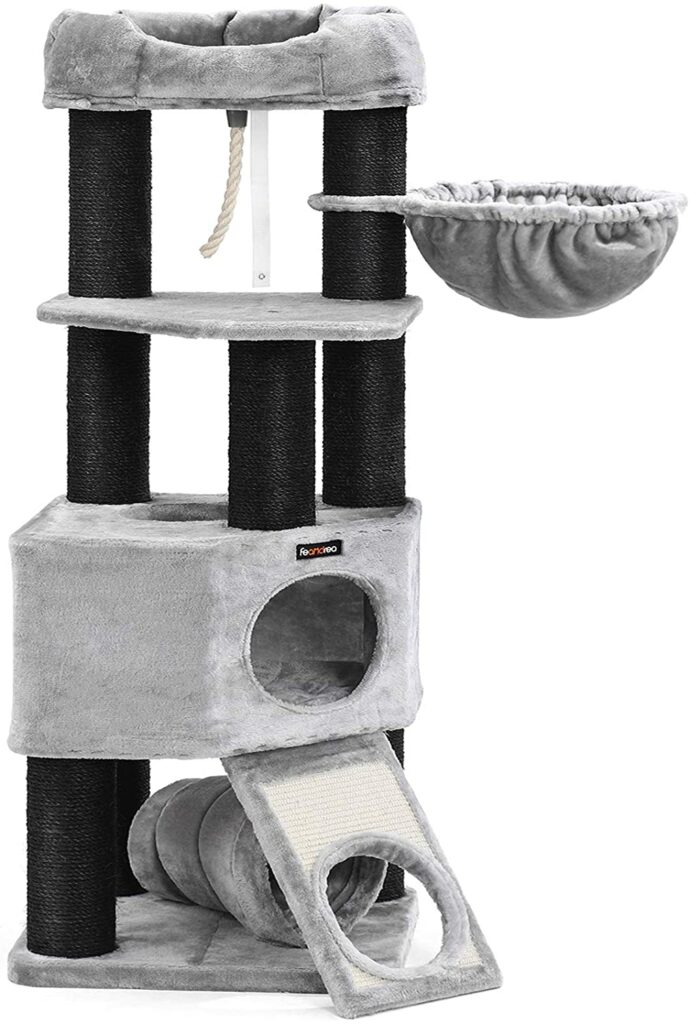 If your cat is a playful one, then her home should offer her enough space she needs to do her activities the way that suits her, Feandrea Cat Tree does a great job at providing such environment with its little balls, cabins and, curves.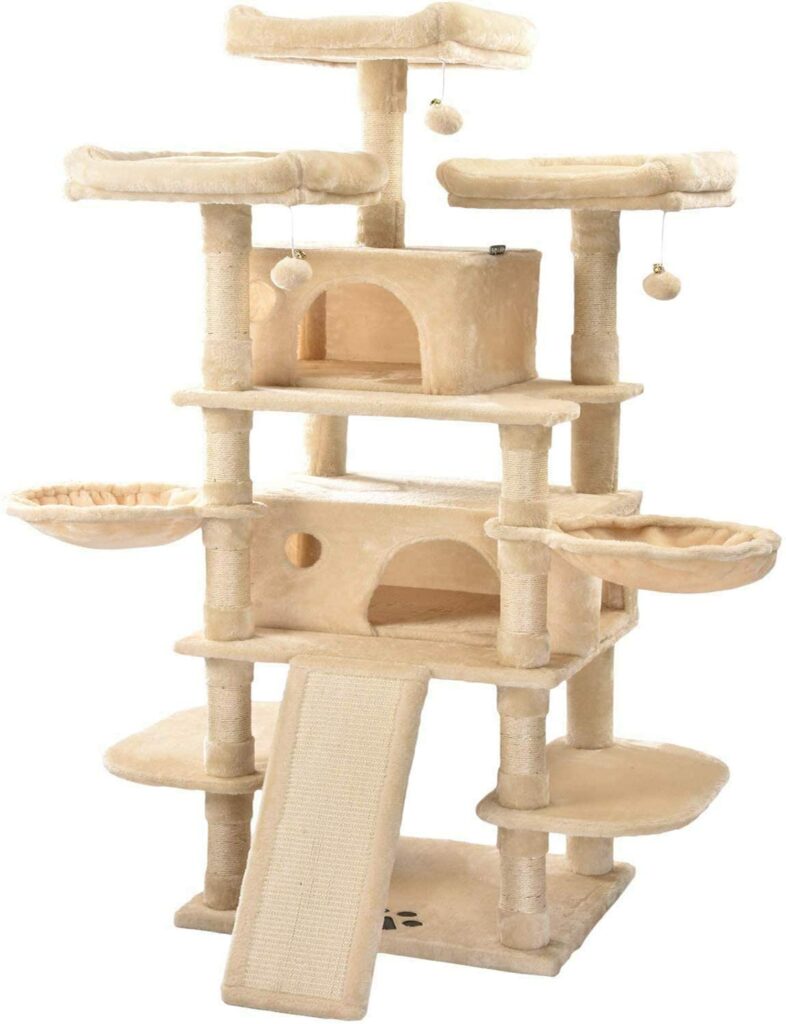 A magnificent castle is what every inspired future king cat is looking for, and you won't be the excellent owner if you denied such a dream from becoming real. The cat tree king's complexity offers the right choice if games are your cat's concern; it's also helpful when you have more than one cat.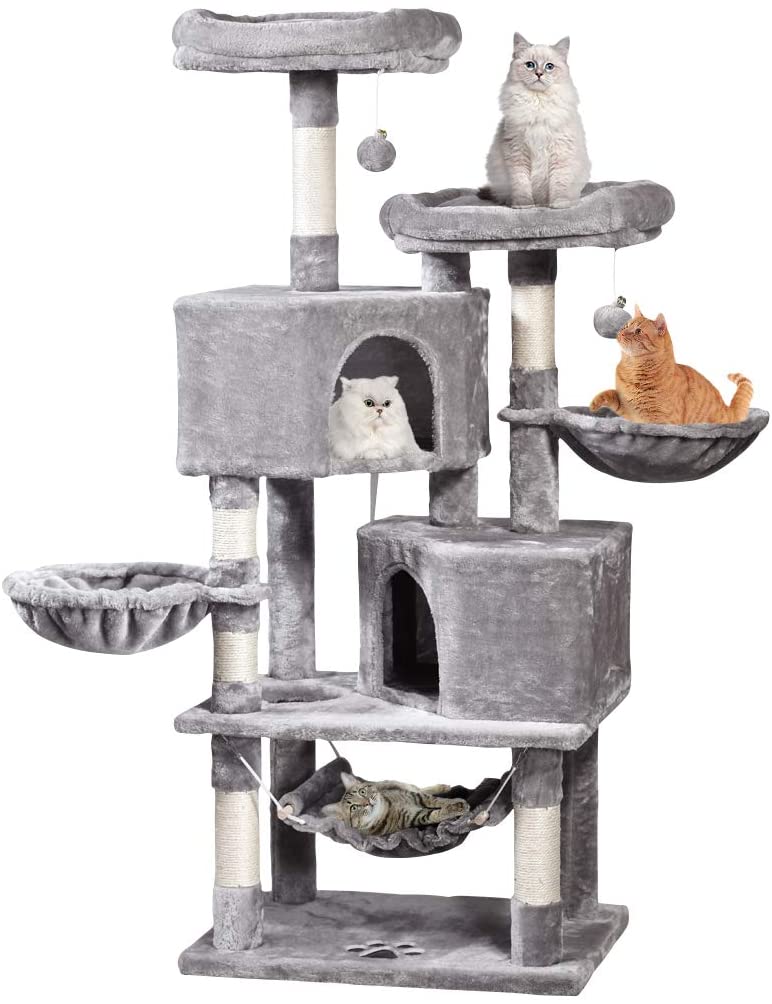 If you need shelter more than a playhouse, this is an excellent castle for your cat (or dozens of them), as you can see it easily fits up to seven cats, with two cabins inside and a lying bed beneath it looks like your cats are heading towards a long sleeping winter zone.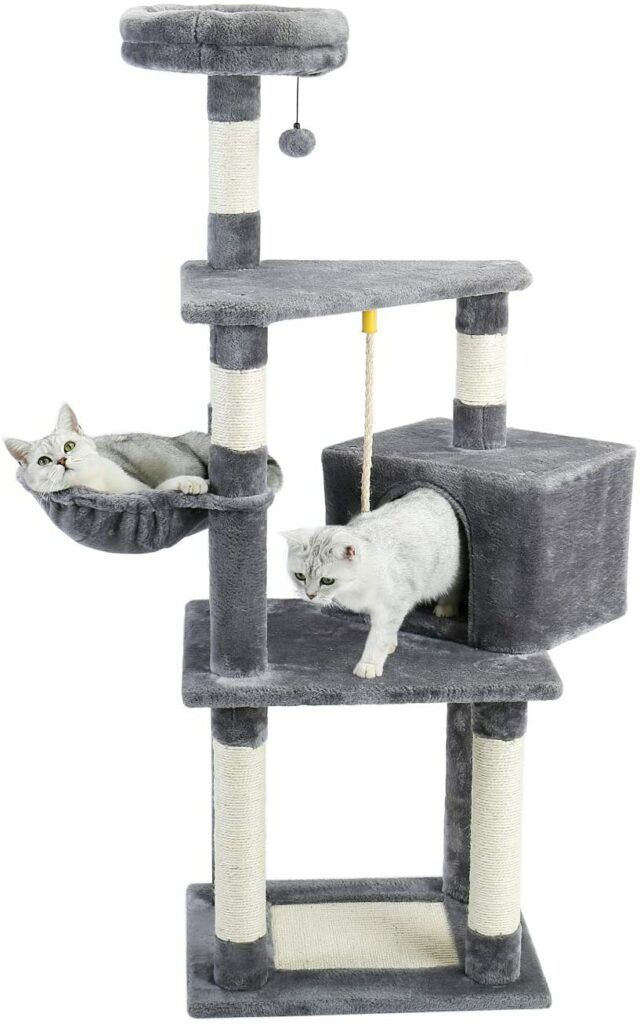 If you need something on the budget, something simple, for only one or two cats, congratulates! You just got it, Made4Pets is the best choice for those who just want a humble home for their cat without any complexity and no extra features.
The light grey color adds a beautiful touch to the whole design, the laying bed is comfortable and warm, and the hanging balls are great tools to play with. Everything from appearance, sleeping, playing is checked, what are you waiting for!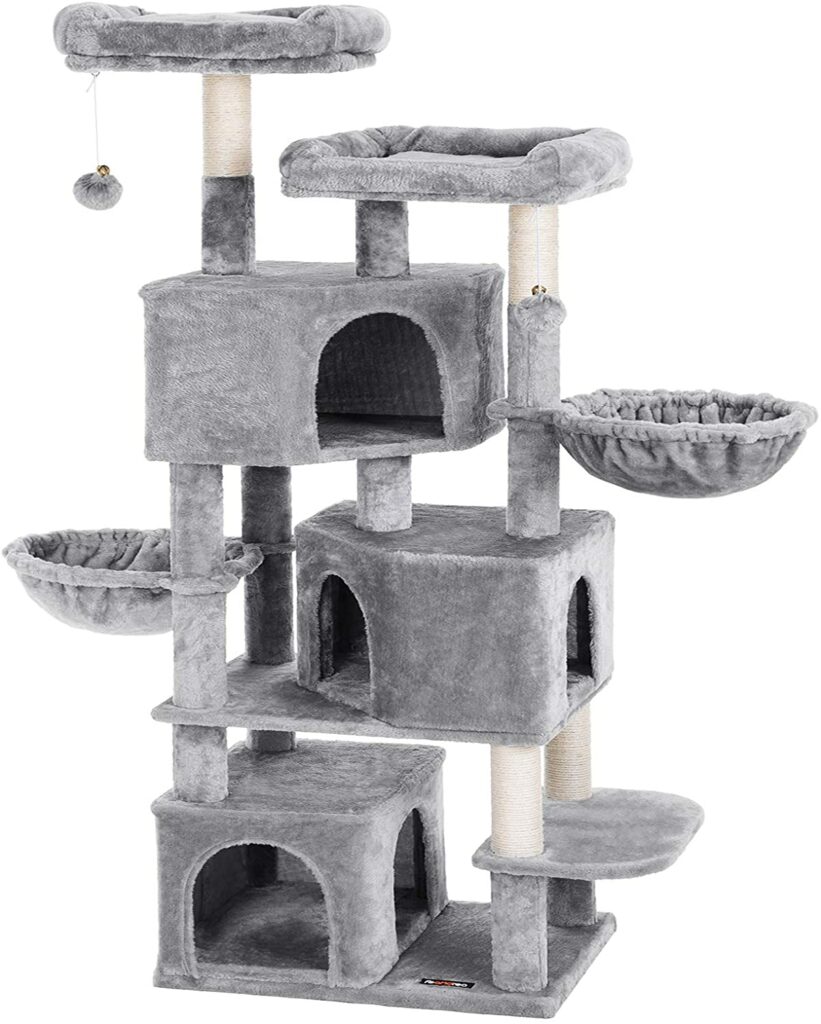 FEANDREA Large Cat Tree is one of the best cat condos for large cats, it offers a big shelter for three up to seven cats, it also provides the necessary worm on winter, cats can climb their beautiful light grey castle, they could play hide and seek, and when they are done with playing. It's time for a nap. They find themselves already in their beds.
As scary as this magnificent beast looks like, it could also be a peaceful home for your cats as well as a perfect playground, it comes shipped with animal toys and a sled, plus its catchy design provides a good chance for shooting some memorable moments.
If you are searching for some combination of a good style and a comfortable space for your large cat, then this is one of the best cat condos for large cats on the market. Get it now!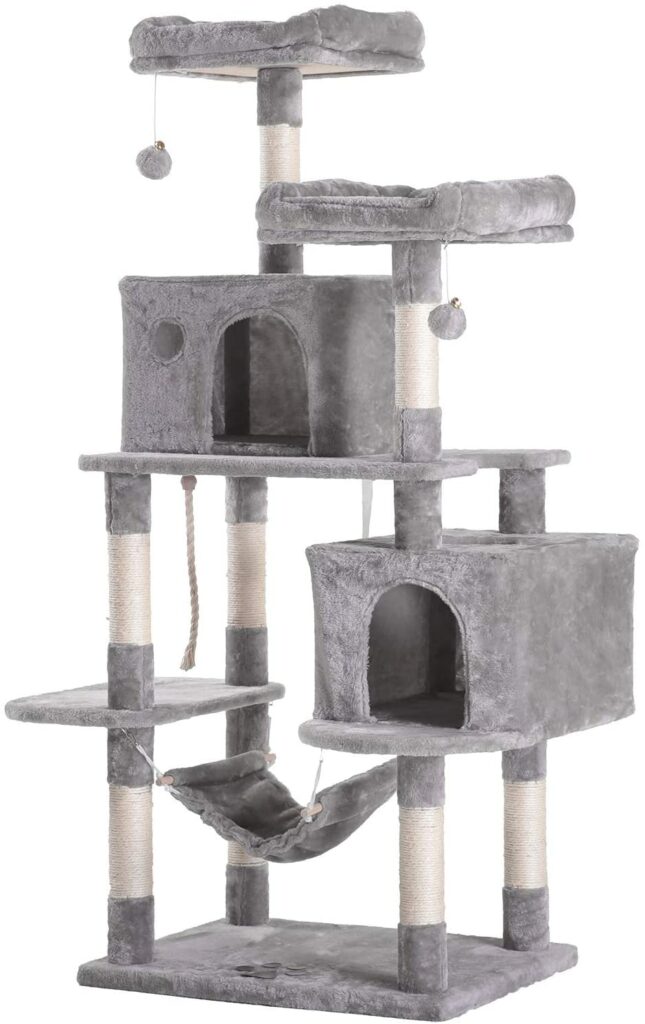 Simplicity is what people at hey-pro are aiming for, and they did a great job at it. From the large cabins, the laying bed and the grey color hey-pro is an entirely different level of cat towers. If you are struggling to find a suitable home for your large cat, you may be looking at it.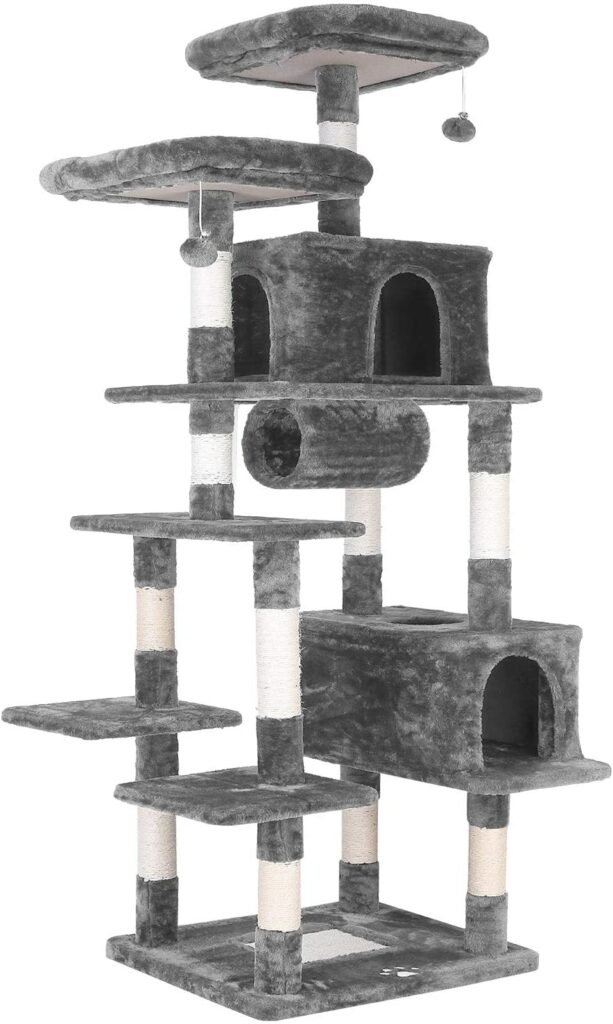 This is where we take the game to the next level, a big home that can take up to eight cats and everyone could get her own room, your cats could play together, they could eat, drink or watch the TV from their cabins on winter if summer strikes there is are outside balconies for them to explore as well.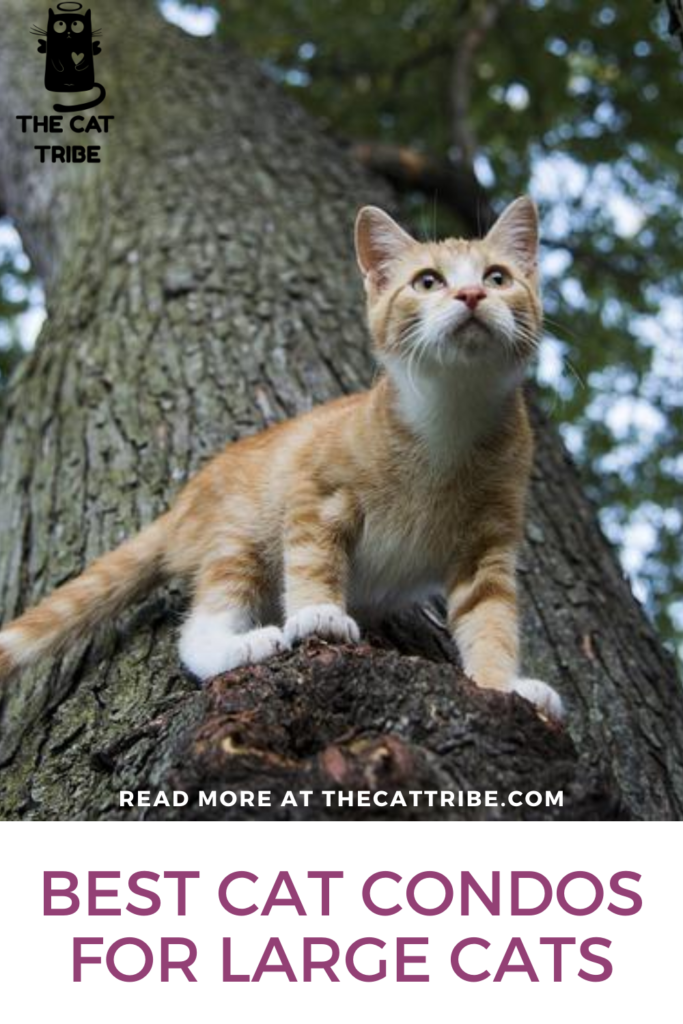 Our Recommendation From The Best Cat Condos For Large Cats List
It's hard to choose when the competitors are compelling like we have today, but if we were forced to choose one of these best cat condos for large cats, our winner would be (68 Inch Multi-Level Cat Tree King), Why? You might ask!
It's simple, this cat condo got it all, every single aspect we used to build up this great list is in that tree, the appearance is magnificent, it's safe for your cat to play in, the material is a row and powerful which provides a smooth place to sleep in, and when it comes to size, it can literally fit up to a dozen of cats.
A cat needs to get the natural lifestyle of climbing, to scratch, and playing she used to have before moving with you. As a cat owner, you are obligated to fulfill such desire in her. However, the larger your cat was, the harder the task of finding such a suitable environment. Our list of large cat trees for large cats is your guide for getting the right fit.
Finally, I hope you found this article useful and found the condo you need for your cats from these best cat condos for large cats list?
Let me know your answer down below. Do you have a better condo that you tried for your cats?
Also, If you have any other questions, reviews, or different opinions about it, leave a comment below.
?? Enjoyed Reading This Article About Best Condos For Large Cats?

Don't Forget To Follow Us On Our Social Channels. View Here
? Disclaimer:

Please note, this review has been researched with information and/or testimonials that are available online in the public domain as well as my personal experience and research. Any recommendations and/or conclusions are strictly opinions and may not apply to, or agree with, all persons or situations. See the full disclaimer for more info.

? This page includes affiliate links. Please be aware we only promote advertising from companies that we feel we can legitimately recommend to our readers. Please see our Affiliate Disclosure for further information.